Dear Community,
Long time no see. As KuCoin's 5th anniversary is approaching, We are pleased to announce that the KCC will together with KuCoin Wallet and Windvane hold the first joint major event of the KuCoin Web3 ecosystem. This event is one of the KuCoin 5th Anniversary sub-events, which will be launched at the same time as the KuCoin 5th Anniversary Event.
Why are we holding this event? Because we want to! Nah, just kidding. Matter of fact, in August, 9 more projects joined our KCC family. So far, more than 80 outstanding projects have been successfully deployed on the KCC, and some of these new friends are still waiting for the KCC community to explore their projects. Therefore, we launch KCC Beowulf, a major Web3 event at this special moment, so that members of the community and friends who want to join our family can interact with projects in our KCC Beowulf journey, and at the same time get token rewards and exclusive NFTs.
We sincerely invite you to participate in the KCC Beowulf to celebrate the KuCoin 5th Anniversary and share rewards.
What is KCC Beowulf?
Before introducing KCC Beowulf activities, we would like to introduce a little bit about Beowulf. Beowulf is a character of an epic old English poem, sharing the story of Beowulf fighting against the evil Grendel and finally slaying the dragon. Beowulf represents the formation of heroes. This is also the message KCC tries to deliver with this event.
KCC Beowulf is a 7-week interacting activity. It is divided into 6 parts: First, challengers shall all mint an initial character NFT. Then, they will go through a 4-round of web3 project interaction. In the final part, challengers need to craft final profile picture (PFP) NFTs and choose a side of two parties.
During the event, there are 9 categories of NFTs, and each category has a different level of NFT items. Challengers have to complete different quests to get these NFTs.
Here is a list of projects that will deeply participate in KCC Beowulf
Until now, 25 projects have participated in KCC Beowulf activities, including DeFi, Wallet, Web3, and other protocols. The specific participating projects are as follows:

It is worth mentioning that Quest3 is our technical supporter during KCC Beowulf Campaign. Quest3 is a Web3 quest and event DApp incubated by Hogwarts Labs, aiming to be the Web3 native advertising platform.
More details of the event will be revealed later, stay tuned.
The Info of the KCC Beowulf Campaign
Event Duration: September 20, 2022, to November 13, 2022 (UTC)
Note: Official KCC Beowulf event will be launched on September 28.
Event Timeline: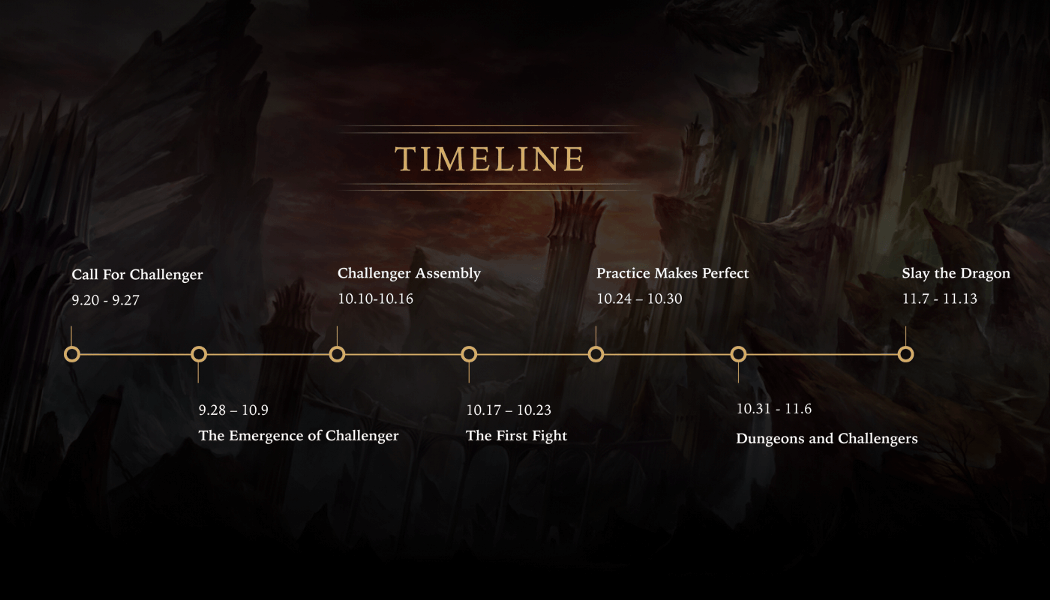 How to Participate in KCC Beowulf?
A brief introduction to the different activities is as follows:
Call For Challengers
Time: September 20, 2022, to September 27, 2022(UTC)
Call For Challengers is KCC Beowulf's pre-event. During the event period, users can use encouragement points to vote for their favorite projects every day. We will unlock a special reward based on the total number of challengers' votes. At the same time, the project that has won the Top 1 will also provide the exclusive rewards of KCC Beowulf. More details will be announced on September 20. Please stay tuned.
The Emergence of Challenger
Time: September 28, 2022, to October 9, 2022(UTC)
Character minting will be available while new challengers and KuCoin users can get additional rewards for minting the initial NFT character.
Challenger Assembly
Time: October 10, 2022, to October 16, 2022(UTC)
Challengers need to complete specified cross-chain quests.
The First Fight
Time: October 17, 2022, to October 23, 2022(UTC)
Challengers need to complete the specified interacting quests.
Practice Makes Perfect
Time: October 24, 2022, to October 30, 2022(UTC)
Challengers need to complete the specified interacting quests.
Dungeons and Challengers
Time: October 31, 2022, to November 6, 2022(UTC)
Challengers need to complete the specified interacting quests.
Slay The Dragon
Time: November 7, 2022, to November 13, 2022(UTC)
Challengers can craft the initial character NFTs and other NFT items into one exclusive PFP NFT. They can choose a side of two parties (dragon or challengers) and fight for the final prize pool.
The Reward of Beowulf
To make the event more fun and challenging, KCC Beowulf has adopted a ladder prize pool. In addition to the base prize pool, the final prize pool will gradually increase as the number of challengers increases. Depending on the final winning party, the distribution of the prize pool will also vary. We will announce more details about the prize pool in the future.
To increase the value of the PFP NFT, we will open the trading of KCC Beowulf-limited PFP NFT after the event ends.
Currently, KCC Beowulf events haven't launched yet. However, users can enter the KCC Beowulf event through the landing page of KuCoin's 5th anniversary, or log in to the KCC official website and follow the instructions to enter the event. We will also release the link to Beowulf's event at a later date.
If you want to know more information about KCC Beowulf, you can join the KCC Official Discord and participate in community activities. Shortly, we will also hold a KCC Beowulf AMA in the community, stay tuned.
KCC GoDAO Team
2022.09.15
Follow us on Twitter >>> https://twitter.com/KCCOfficialTW
Join us on Discord >>> https://bit.ly/kccdiscord
Join us on Telegram >>>https://t.me/KCCOfficialEnglishCommunity
Follow us on Medium >>>https://kccofficial.medium.com/