Pikaster is a leading play-to-earn gamefi project developed by Metaland, powered by Unity Engine. It is built on KuCoin Community Chain(KCC), invested by KuCoin and TronDAO. A card-based battle strategy game featuring Pikaster(NFTs), an innovative NFTs staking and evolution system, an outstanding scholarship system, guilds and wars , marketplace and in-game wallets.
A unique 3-token model has been adopted: $RBP $SRBP as game tokens and $MLS as governance token. The 3-token model provides a unique perspective tackling in-game inflation and a superior control on balance of minting vs burning. Current registered users at 400k, stable DAU approx. 5k.
What is Pikaster?
Pikaster is a turn-based strategy card game where players use NFTs to engage in battles. There are different game modes, such as PvP Battles, PvE Adventures, World Trees and Guilds Wars etc.
There are 6 classes of Pikaster: grass, bug, water, lightning, fire and fighting. Different attributes show restraints against each other.
How Does Pikaster Work?

A player chooses 3 to 5 Pikasters to enter a battle: 3 pikasters will begin the line-up. When one of them is defeated, the back-up Pikasters will then enter the battle accordingly.
At the beginning of each turn, each player will initially get 6 random skill cards and 3 Energy. Once both players are ready by clicking the "Battle" button, the match will begin immediately.
The first use of the skill card will consume 2 Energy, and then Energy will increase by 1 to 2 every turn.
Who Created Pikaster?
Pikaster is the first gamefi product developed by Metaland, a subsidiary of Ascend Decho.
Metaland's vision
Metaland's vision is to build a metaverse, where its community is DAO-based. Through our governance token $MLS, players will be able to participate in the metaverse, playing a variety of games, be it card-based, casual, or competitive.
Players will be able to interact via a set of social networking tools, built both in-game and externally, connecting with friends and friends-to-be. Not to mention the possibility for $MLS holders to shop online and offline, as well as participating in move-to-earn in the near future.
Further, token holders will obtain their own unique identities, while having a full control of their assets and personal data. But more importantly, $MLS holders will finally achieve a high level of autonomy, thereby fully immerse oneself into the era of Web 3.0.
Our Team – Ascend Decho
Metaland is the metaverse subsidiary of Ascend Decho. Our vision is to build a DAO-based metaverse. Our team members have a wealth of past experiences in 3As gaming studios, mobile games startups, deFi protocols and gamefi projects. Many of them are also crypto-natives. Profiles of our team members coming soon!
What is the $MLS,$RBP, and $SRBP Token?
$MLS
MLS is the governance token in Metaland's universe and will be applied to all future games developed. The supply of $MLS is limited, with a total of 200,000,000 issued. $MLS reflects the core value of its community.
Token distribution as follows: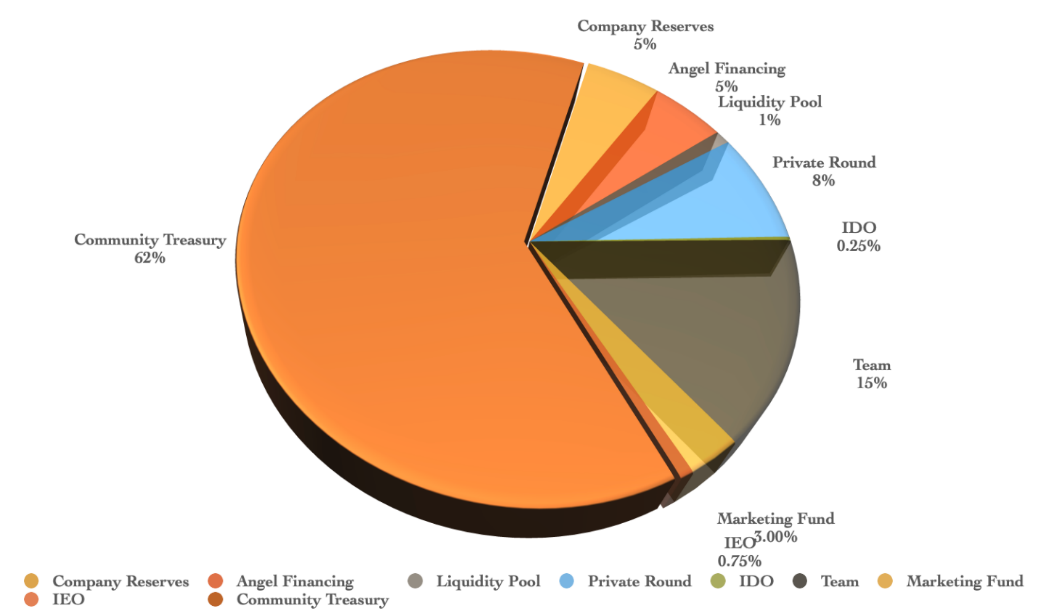 $RBP and $SRBP
A total of 1,000,000,000 $SRBP and 10,000,000,000 $RBP are produced.
$RBP is the basic in-game token, which players will earn in their daily gameplay. The amount of $RBP that can be earned by players vary, depending on the player's NFTs holdings.
$SRBP is the scarce in-game token and players will earn them in advanced gameplay. Their output will be very limited. Players must deeply participate in advanced gameplay to earn them.
Closing Thoughts
Pikaster will be deploying on BSC and Polygon and more updates coming soon
Join Pikaster:
Website: https://t.co/y8rlxH2NUR
Twitter: https://twitter.com/PikasterNFT
Discord: https://t.co/pdgLMHWdoo
DISCLAIMER: Please note that all projects and dApp applications running on the KuCoin Community Chain (KCC) are independently developed by third-party developers. They are not audited by KCC official team. KuCoin Community Chain is an entirely open-source and open community, which means everyone and all project parties can participate. All opportunities and risks also exist at the same time. You need to identify and prevent risks carefully.