Decentralized Finance (DeFi), is one of the most important infrastructures in Web3.0. The aim of DeFi is to create an entirely new financial system, completely independent of the traditional financial economy. Lending protocols are a key part of the DeFi ecosystem because they provide liquidity by connecting low-risk, low-effort investors who are risk-seeking, with proactively managed investors that focus on leveraged liquidity provision and yield farming positions.
Torches Finance is one of the best lending protocols running on the KuCoin Community Chain(KCC). After Torches Finance launched, it received a strategic investment immediately from KuCoin Ventures which is the leading investment arm of KuCoin Exchange.
What is Torches Finance?
Torches Finance is a decentralized non-custodial liquidity protocol based on KCC(KuCoin Community Chian), where users, wallets, and dapps can participate as depositors or borrowers. Now, Torches supports mainstream crypto assets such as BTC, ETH, KCS, USDT, USDC, etc. Users can earn $TOR tokens by both depositing and lending assets on Torches Finance.
Also, asset security is an important task for us. Torches Finance has completed a contract audited by PeckShield. Torches is completely open source. All of the oracle services and smart contracts are open to the public and can be viewed on Github to ensure maximum transparency.
How Does Torches Finance Work?
Torches is a lending protocol that enables users to deposit crypto assets and receive interest in return. Besides, Torches also allow users to borrow crypto assets in an over-collateralised manner.
With Torches, users can:
Earn passive income by providing liquidity;
Borrow assets for trading or leverage mining;
Win extra revenue by becoming governance participators;
Leveraged mining, Genesis NFT, etc. will be coming soon
The emergence of Torches Finance is expected to increase the utilization rate of users' assets on KCC and provide new financial investment options.
The Advantages of Torches Finance
1)Customized Lending Market
The customized sub-markets are entirely community-driven, with each community able to create a unique lending market based on its own characteristics. At the same time, the sub-markets are isolated from the main market to avoid unknown risks and security issues.
2)veToken model
Torches applies the veToken model to the lending protocol to dynamically adjust the incentives of the participants and stakeholders.
3)Strong team
The core members of the Torches Finance team are all blockchain experts with rich experience in team operations and management. Moreover, Torches pay great attention to technology development. More than half of the team members have technical backgrounds.
4)DAO governance
The DAO governance system is established by granting rights and interests to $TOR holders. By participating in the DAO, TOR holders can obtain the governance incentive and governance voting rights on Torches.
Who Created Torches Finance?
The core members of the Torches Finance team are all blockchain experts with rich experience in team operations and management. Moreover, Torches pays great attention to technology development, and more than half of the team members have tech backgrounds.

The core members of the Torches Finance team are:
Joe CEO of Torches Finance
Joe is a continuous blockchain entrepreneur, and he has deeply participated in decentralized projects such as wallets, public chains, and DEX. He has rich experience in technology development and project management.
Charles CTO of Torches Finance
Charles is a senior blockchain practitioner with many years of experience in technology development. He has worked in the global Top 5 crypto exchange as a technical expert and served as a technical consultant for several blockchain projects.
Eric CMO of Torches Finance
Eric has rich experience in market operation and is a senior blockchain practitioner. He has served as the marketing director of the Top 3 mining pools in the world and the market leader of the Top 20 public chains.
What is the $TOR Token?
$TOR is the governance token of Torches. $TOR holders will have the governance right of Torches. More usage will be published in the future. Users can get $TOR by providing liquidity, borrowing assets in Torches, etc.
The total number of $TOR is 100,000,000, and the distribution is as follows: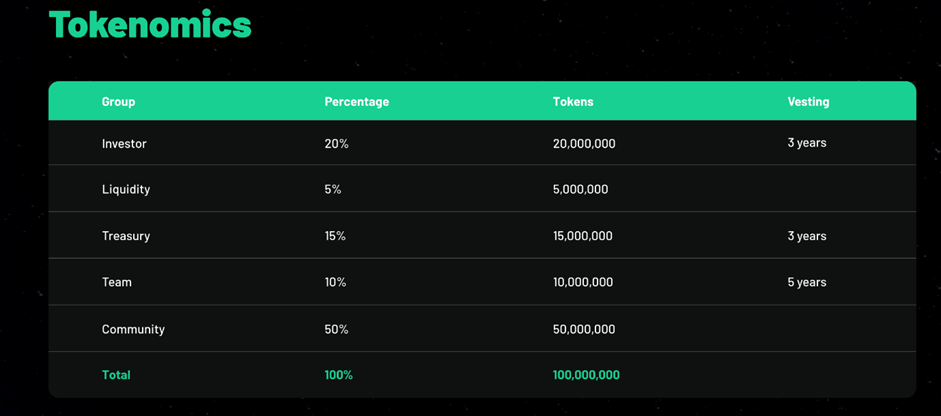 Note:
$TOR token has not been officially listed yet, and we will dynamically adjust the official listing time according to the market. Please pay attention to our official media for details.
Closing Thoughts
Torches Finance is a place where you can lend or borrow crypto assets. All you need is a KCC wallet, some funds, and you can borrow or earn interest right away.
DISCLAIMER: Please note that all projects and dApp applications running on the KuCoin Community Chain (KCC) are independently developed by third-party developers. They are not audited by KCC official team. KuCoin Community Chain is an entirely open-source and open community, which means everyone and all project parties can participate. All opportunities and risks also exist at the same time. You need to identify and prevent risks carefully.