KuCoin Community Chain (KCC) hosted an AMA (Ask-Me-Anything) session with Veronica, CEO of SafePal, discussing the Good News and Progress of SafePal; general crypto topics discussion. If you missed the AMA, you may check the full transcript here.
Time: August 23, 2022, at 2:00 PM UTC.
Host: KCC
Guests: Veronica — CEO of SafePal
Q1: Can you please tell us all more about SafePal, the products, and its mission? Especially why it's needed?
Veronica Wong: SafePal is a cryptocurrency wallet that provides decentralized, secure, friendly, and powerful wallet solutions for people to manage and grow their crypto assets.
Founded in 2018, SafePal was the first and only hardware wallet incubated and invested by Binance, the largest cryptocurrency exchange in the world.
Till this point, more than 6 million users across the globe are securing, managing, and growing their crypto wealth using SafePal hardware, mobile, and extension wallets. SafePal wallet has supported 15 languages, 48 blockchains, and countless tokens in the ecosystem. We aim to empower investors toward financial opportunity and freedom in the decentralized world.
Right now we have three types of wallets:
SafePal S1 (https://store.safepal.io/safepal-s1-hardware-wallet.html) – a 100% offline device that keeps private keys safe. It is built with an air-gapped signing mechanism, self-destruct mechanism, and other security features to protect your assets and privacy. Meanwhile, users can enjoy the flexibility and mobility to manage their crypto assets at any time, anywhere
SafePal App Mobile Wallet (https://www.safepal.com/appinfo)– a mobile crypto portal for secure and easy crypto asset management, and
SafePal Extension Wallet (https://www.safepal.com/extension) – a browser extension for a secure and seamless Defi experience, available for Chrome, Firefox, and Microsoft Edge.
Through the wallets we provide value-add features and services for users to easily manage and grow their crypto wealth:
Cross-chain Bridge and Swap: Users can easily migrate their funds across different chains
SafePal Earn – A Defi yield aggregator that provides secure and simple stake-to-yield services to users, so that users don't need to open different DApps and invest one by one anymore
Trading Mini-programs: SafePal is the only decentralized wallet aggregating CEX and DEX for seamless trading experiences. Right now we have integrated Binance, MEXC, and ApolloX. In the future, there will be more.
LP Center: Easily set up your own LP tokens without opening third-party DApps
Revoke Manager: View all the authorized smart contracts of your wallet and revoke any of them in a few clicks
Built-in web3 browser that allows users to explore, bookmark and access DApps from different chains
Q2: Can you share the starting point to change the old well-known logo and design and what's the core value behind it?
Veronica Wong: The new SafePal brand launched last week is a very exciting moment in the SafePal history and it marks another milestone for our next stage of scaling and growth.
No matter what changes we bring to brand visual identity, our core value to build the most secure and friendly solutions remains unchanged. We strive to be the go-to partner of every crypto user in exploring the web3 experience by utilizing state-of-the-art industry technology with the highest level of asset protection to keep you safe on your journey. With SafePal, users can always feel comfortable and confident to grow crypto wealth on your own terms.
The new SafePal logo is designed in the shape of 'S', referring to 'SafePal', 'Secure', and 'Smooth', the three key core elements we build the brand with. The square shape in the middle represents the core value of SafePal, which is to protect your crypto assets, while the two separate logo pieces resemble two hands protecting users' assets. The whole logo delivers a dynamic and futuristic vibe to the new brand, as SafePal is always built for the future, for the next-generation technology. You can learn more about our new look here (https://blog.safepal.com/the-new-safepal-look/).

The most exciting part of the launch that happened last week has been the new SafePal browser extension wallet (https://www.safepal.com/extension) for Chrome, Firefox, and Microsoft Edge users, bringing the secure and seamless SafePal experience to the browsers. The launch officially marks a new milestone for SafePal to become one of the few wallets that provide comprehensive and integrated user experiences via hardware wallet, mobile wallet, and extension wallet.
Through the SafePal browser extension wallet, users can explore the Web3 universe on their computers effortlessly.
Q3: what are its main characteristics and key features that distinguish SafePal Hardware Wallet from other projects and what competitive advantages does your project have?
Veronica Wong: SafePal S1 hardware wallet is an off-line device that only communicates with the SafePal App via encrypted QRcode. This is also called the air-gapped signing mechanism (https://safepalsupport.zendesk.com/hc/en-us/articles/360061264971-Air-gapped-Signing-Mechanism). There is no bluetooth, no WiFi, no NFC or any other radio-frequencies inside the device. To use a SafePal S1 wallet, you will need to download a SafePal app to easily manage your crypto asset. By pairing it with the SafePal App, you can send, hold, swap, buy, and trade crypto with friction-less experience.
The S1 hardware wallet has a lot of highlights and special features that make it the ideal hardware wallet to go for the crypto masses:
A. Advanced Security
SafePal S1 adopts the world-leading security hardware architect, with an EAL 5+ secure element(to keep the private key in a safe and isolated environment), true random number generator(to make sure the private key is uniquely generated) and multiple layers of security sensors(to detect malicious attack and trigger self-erasing mechanism).
It is implemented with an air-gapped signing mechanism. All transaction data is transferred via encrypted QRcodes between the hardware device and the SafePal App. There is no bluetooth, no WiFi, no NFC or any other radio-frequencies, and thus keeping the private key in a 100% offline environment.
On software level, SafePal is implemented with device authentication, Passphrase and self-erasing mechanism, protecting your crypto from supply chain attacks, radio-frequency attacks and other attacks. More security details can be found from our Knowledge Base (https://safepalsupport.zendesk.com/hc/en-us/categories/4406445170843-Security)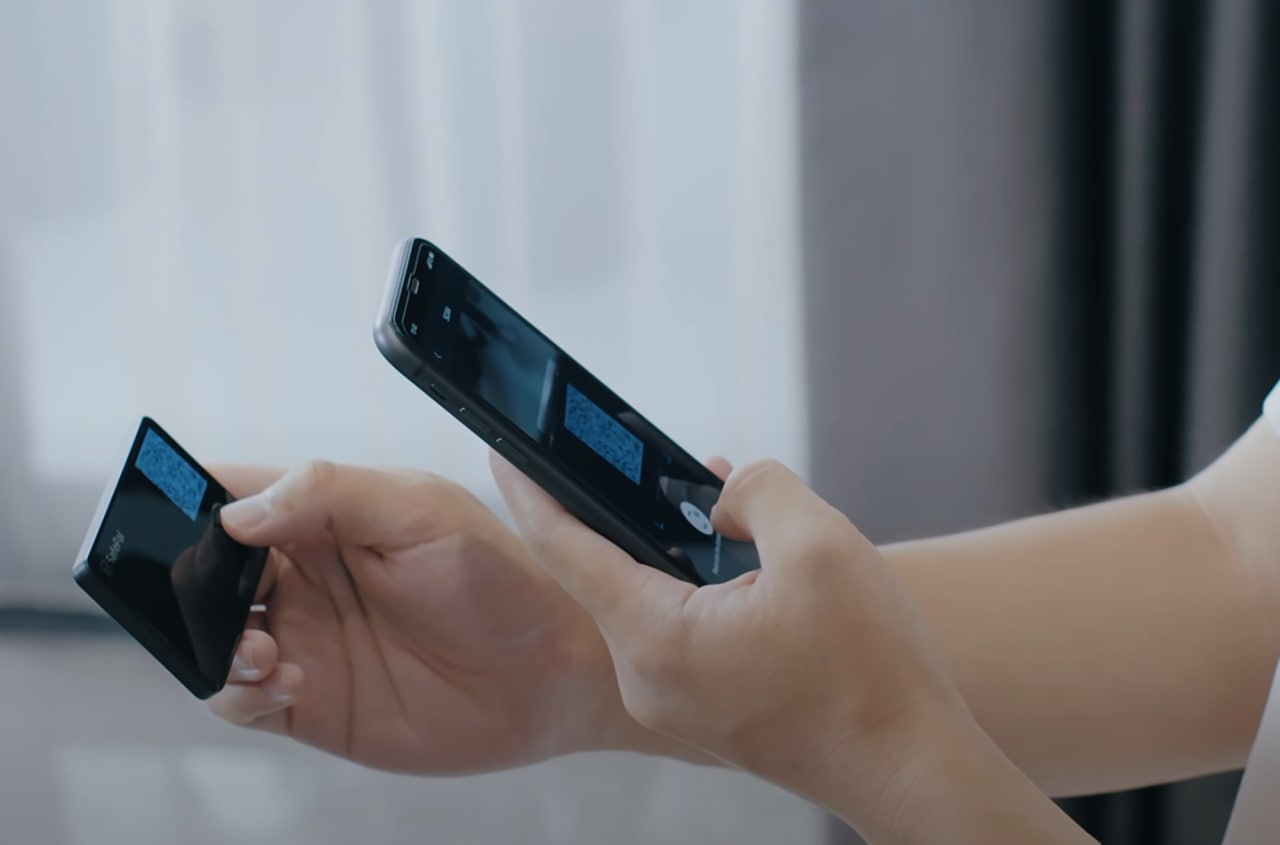 B. Powerful features
SafePal S1 needs to be paired with the SafePal App in order to on-board daily transaction functions (because the S1 is 100% offline). With the SafePal S1 being paired with the SafePal App, users are able to send, manage, buy, swap and trade crypto inside the SafePal wallet without any compromise on the security of private key.
This provides a high level of convenience to the end-users without the bother to move their crypto between different third-party service providers. All crypto management functions can be found inside the SafePal wallet.

C. User-friendly design
SafePal S1 is built with a 1.3' high resolution IPS screen and a D-pad, displaying every detail of your transactions and enabling you to interact with the wallet in the easiest way.
Once you receive the wallet, all of the wallet configuration can be done on the device, and you don't need to plug it into the computer or download any desktop or App to do the initialization.
It is a mobile device that you can carry around and manage crypto at any time, anywhere. You don't need to carry a laptop or tablet to send crypto anymore. One SafePal S1 paired with the SafePal App is all you need.
There are more details like this. SafePal S1 is a perfect hardware wallet to choose no matter if you are a beginner, developer or advanced crypto investor.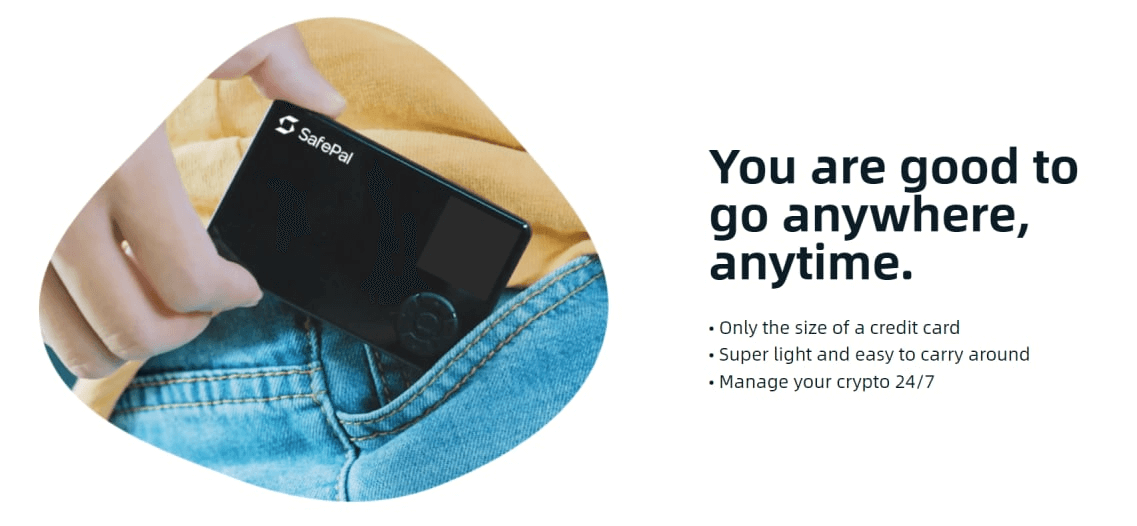 D. Accessible price offering
SafePal S1 is built to offer the most secure experience to the crypto masses. We believe tha security is just a base line and we should build something that is accessible to everyone. In the future, a hardware wallet with the best specifications like SafePal should be available to every user stepping into the crypto space. With the entry price at $49.99 (https://store.safepal.io/safepal-s1-hardware-wallet.html), we make secure crypto experience available to everyone. You don't need to second think about ordering an expensive and cumbersome-to-use hardware anymore.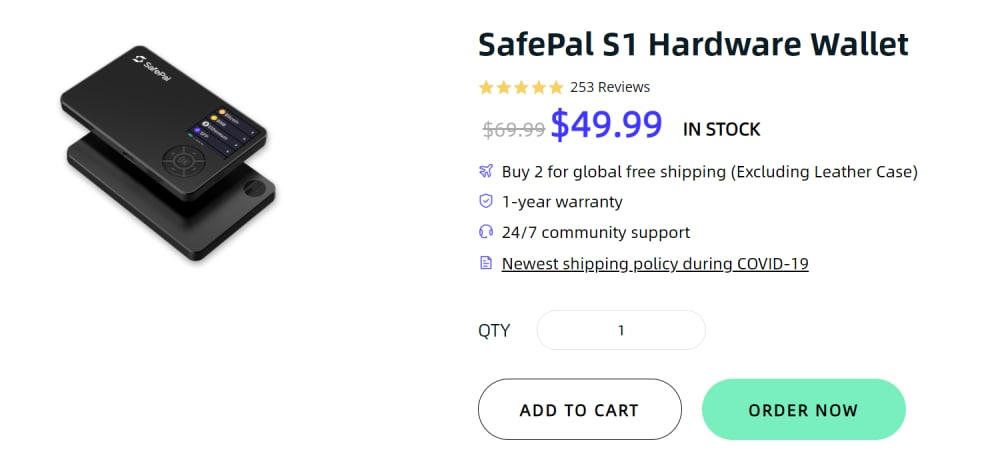 Q4: What are the special parts of the SafePal Extension Wallet? And how do you differentiate yourself from other competitors?
Veronica Wong: I know that most of you probably use Metamask extension wallet for your browser experience so I'll try to explain it in a comparison perspective to help everyone understand the advantages the new SafePal Extension Wallet has:
A. Compared to Metamask, SafePal Extension Wallet is much simplier to setup and use
The new SafePal Extension Wallet allows users to navigate the web3 world conveniently, securely, and most importantly in a decentralized manner.
Through the SafePal extension, users can create and manage multiple seed phrases at the same time, without logging on and off between different wallets. It takes roughly 1-3 minutes to set up a new wallet, which is fast and simple for everyone.
Users can now enjoy exploring the world of blockchain, cryptocurrency, NFTs, and more using their favorite browsers knowing that their crypto assets are securely protected by SafePal. SafePal browser extension wallet allows users to open and stay connected across multiple different blockchains and DApps simultaneously without the complexity of configuring nodes and networks.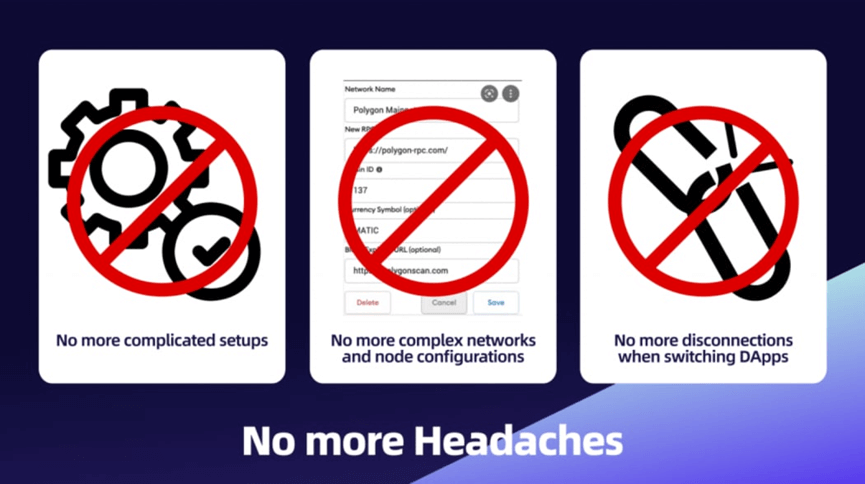 Also, by launching the SafePal Extension Wallet, we're not only expanding our SafePal collection to include an extension. We're improving the experience of using one.
That includes:
B. SafePal Extension Wallet is more compatible
It supports unlimited blockchain access, either EVM or non-EVM. So you don't need to install a separate wallet for your assets stored on a non-EVM chain such as Solana, Avalache or Near. SafePal Extension Wallet supprots them all. We've supported 30+ chains in it, and in the future, there will be many more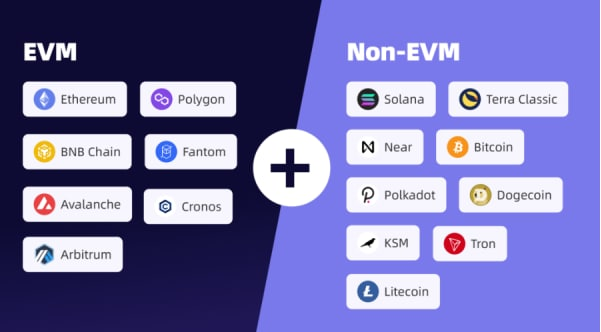 C. SafePal Extension Wallet is more powerful and convenient for your DApp experience
It allows you to always stay connected to the favorite DApps you use. For example if you are currently using PancakeSwap and are switching to Uniswap, you don't need to manually disconnect and re-connect the extension wallet (just like what you are forced to do now in Metamask) any more. The DApp connection goes with you, as always. This provides seamless and frictionless experience for your DeFi and GameFi experience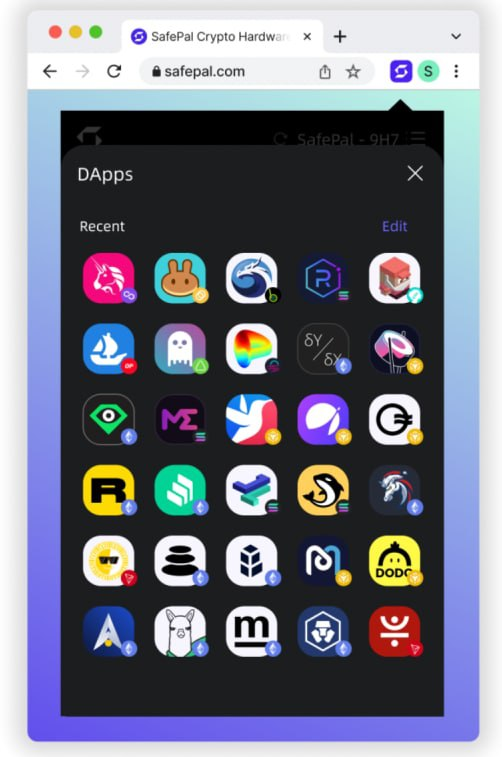 D. We are moving the most popular features to the SafePal Extension Wallet, including cross-chain Swap and coming next many more
SafePal Swap is supported on the new extension wallet from Day 1. You can move assets across different chains via SafePal Swap, just like you did in the SafePal App.
Coming next, there will be more new features implemented in the extension wallet such as compatibility with other software wallets and hardware wallets on the market. Welcome to follow us on Twitter (https://twitter.com/iSafePal) or Discord (https://discord.com/invite/BuKynZqRNj) for the latest update!
We feel excited about the final launch of the new extension wallet. Through it, we hope to bring the same secure, friendly and seamless experience to you on your desktop. Come join us (https://www.safepal.com/extension) and start a brand-new Web3 experience with the next-level extension wallet.
Q5: Do you have any technological measurement to enhance the security of your products?
Veronica Wong: Security is always the most important element we bear in our mind when building the products.
As one of the few wallet products on the market that has been proven and rigiously tested by experts, SafePal has stood the test of time by both private independent 3rd party auditors like Kraken Labs whom even with physical access were unable to retrieve and steal users crypto assets and private keys unlike our competitors whom were broken into in under 15 minutes. Our product and services are developed with both security and compatiability in mind.
SafePal offers all 3 wallet types giving the user full access to the web3 world. Take the extension wallet as an example, similar to the SafePal App, the SafePal Extension Wallet allows you to create or import multiple seed phrases in one extension so that you can easily switch between different wallets and manage your assets stored in different places. By separating your funds into a different wallet, you are also enjoying a higher level of security because you won't have to suffer the loss of your whole net worth if one of your wallets gets stolen. The extension wallet also allows you to connect your wallet from the SafePal App or S1 hardware wallet. By doing this, your seed phrase is always safely stored where it is, without being exposed to the browser, which is connected to the internet.
We also pay keen attention to user education, teaching new beginners on how to safely manage and protect their own funds. In the SafePal Academy (https://blog.safepal.com/) blog posts and the SafePal Help Center (https://safepalsupport.zendesk.com/hc/en-us), you can find plenty of easy-to-understand tutorials and educational articles of all kinds.
Also we've developed tools such as Revoke Manager (https://safepalsupport.zendesk.com/hc/en-us/articles/4415573986331-How-to-revoke-smart-contracts-using-the-Revoke-Manager-in-the-SafePal-wallet) so that users can review all of the authorized DApps and revoke any of them in a few clicks.
There are many more.
In a nutshell, as a decentralized wallet we are fully aware that security should always be born in mind and this is not just for the brand reputation, but also for being responsible to all of the users we serve.
Q6: Do you have plans for global expansion? Is your team now focusing on the market at this time or focus on building and developing or getting customers and users, or partnerships?
Veronica Wong: At the moment, SafePal offers its products and services across 200+ countries with users from around the world. We have already expanded globally and will be focused on improving our localization efforts by better supporting the local communities from around the world.
As one of the few unique blockchain projects that offers a physical line of product, we at SafePal along with ournetwork of reseller partners aim to improve distribution channels for our community. Coming next SafePal aims to take part in supporting more hackathons, blockchain conferences and offline initiaitives with our partners to further promote web3 adoption. We will also launch Ambassador Program soon.
If you are interested in becoming a SafePal partner, welcome to learn more about our reseller program (https://www.safepal.com/reseller) and affiliate program. (https://www.safepal.com/affiliate)
Q7: What are your expectations on collaborating with KCC projects and supporting KCC network?
Veronica Wong: To tell the truth, we have received many user requests for collaborating with and supporting the KCC network.
Our community of users would love to see us work closer and better support the KCC network as well as the projects that exists within the ecosystem.
This weeks' AMA and hardware wallet giveaway mark only the beginning of our collaboration. Our expectations are purely based on the desires of our community, therefore if they wish to learn more about the KCC ecosystem we would love to invite more projects from the KCC network to take part in SafePal Giftbox and WHO campaigns so that our community can learn more about the developments of the network. I'm really excited to see that happen and looking forward to more collaborations with the KCC ecosystem.
Q8: What are your most important next priorities in SafePal?
Veronica Wong: Our priorities have always been surrounding building decentralized, secure and friendly wallet experiences for the masses.
With the complete product landscape of hardware, mobile and extension wallet, we are now able to provide wallet as the gateway to the web3 universe for our users.
Coming next there are a few directions we are continuously exploring and developing:
Aggregated Swap and Trade services:
We'd like to introduced more Swap and Trade options for users to easily exchange their tokens across different chains in the way they like. Furthermore, we facilitate product transparency so that users can view which channel their swap/trade orders are completed through and what the possible take rate could be.
More new features on the newly launched extension wallet
There are still a lot of improvements needed for the newly launched extension wallet, including adding more blockchain integrations, and supporting custom-add tokens so that users can easily migrate their wallets from elsewhere to SafePal.
Another key feature we plan for the extension is to build its compatibility with other wallets. In the future users should be able to connect Metamask, TrustWallet, Ledger, Trezor and other wallets with the extension wallet to enjoy the seamless wallet experiences on the browser.
Aggregated NFT marketplace
As NFT become an important asset category, we are seeing growing demands of NFT asset management and exchange and also some common difficulties users are facing with. The team is doing early-stage research on how to improve users' NFT managing and trading experience in the wallet.
New blockchains on all three types of wallets
This has always been part of our product roadmap. SafePal will support as many blockchains as possible to empower users to manage assets from different chains.
For example, new chains such as Aptos and SUI are already on our pipeline.
These are just some major directions the team is exploring. During the process there will be a lot of details built into the products to make them easier to use and manage.
Free-Ask from KCC Community
Q: Russia and Ukraine war has slowed down many economies around the world but as a crypto business, does it affect you negatively or positively? Are you still on track to achieve your goals or are you planning a new development?
Veronica Wong: As the war erupts between the two countries, we are seeing increasing crypto adoption in the Russian and Ukrain communities. Our sales volume of the hardware wallet and the App installation has 5X during the time. In the meantime, the collapse of centralized finance institutions such as Celsius and Babel Finance has educated everyone on the importance of owning a secure and reliable decentralized wallet. Hence we are in a very good shape and taking solid steps toward the future.
Q: What are your plan to spread awareness about your project in different countries where English is not good?Do you have local communities like Indonesia,Thailand. So they can better understand your project?
Veronica Wong: Yes, we have French, Spanish, Indonesian, Japanese, Chinese, Vietnamese, Russian, Turkish and Portuguese (building) communities in Discord, where more than 66.8K members are communicating, sharing and discussing everything about SafePal, crypto and blockchain on a daily basis. Meanwhile we have local members in France, Russia, Latam and US to help users in a better way.
Welcome to join our Discord (https://discord.com/invite/BuKynZqRNj) to become part of the large and active communities.
Q: I was trying to Buy Safepal wallet and found it on Amazon. Is it safe to buy from there or will you suggest some authentic sources from where we can buy? Little worried since its my first time buying.
Veronica Wong: Thanks for your interests in ordering the SafePal products. Yes we are available on Amazon. And you can find all of the official and legitimate Amazon sales links from this page, (https://www.safepal.com/reseller) together with all of the official SafePal reseller information.
Q: You recently made KYC mandatory for using Binance in your app. what is your policy toward KYC and do you have any plan to make it mandatory for other cexes and dexes too?
Veronica Wong: Binance is a third-party mini-application built into the SafePal wallet. It means that the usage of this mini-program needs to comply with the latest Binance KYC requirements. Only users trying to access the Binance trading mini-program need to comply with the KYC requirements.
Meanwhile, all of the KYC information is stored by Binance. SafePal does not complete user KYC and does not store any user information such as email, address, phone number, name, and more.
Therefore, the KYC requirement of using the Binance mini-program doesn't impact SafePal as a decentralized wallet that doesn't store, access or manage users' private information.
Coming next there will be many more mini-programs implemented into the wallet. To use these mini-programs, users need to comply with the term of use of each platform providing these technologies and services. So if you are using a DEX, I don't see this will be an issue because DEX doesn't store or require any KYC for now.
Q: Do you plan to allow users add custom Ethereum like blockchains in SafePal?
Veronica Wong: Yes we plan to. For the extension wallet especially. So that users will find it easier to migrate their wallets and funds from else where. User experience compatibility is a very important strategy go attract users already using other extension wallet.
Join SafePal:
Website: www.safepal.com
Twitter: https://twitter.com/iSafePal
Support Twitter: https://twitter.com/safepal_support
Discord: https://discord.com/invite/BuKynZqRNj
Instagram: https://www.instagram.com/isafepal/
Facebook: https://www.facebook.com/iSafePal
Youtube: https://www.youtube.com/channel/UCfqztNiZWV62Eu9kiqKf6WQ
---
Follow us on Twitter >>>https://twitter.com/KCCOfficialTW
Join us on Telegram >>>https://t.me/KCCOfficialEnglishCommunity
Follow us on Medium >>>https://kccofficial.medium.com/