sKCS as the native token of KuCoin and the core fuel of KCC, KCS itself is extremely valuable. With the launch of sKCS.io, the liquidity rate of KCS on-chain assets may further increase. Improving the composability of DeFi overall on KCC promotes the flow of assets for various protocols. At the same time, after the launch of sKCS.io, sKCS will also conduct joint activities with other protocols on KCC to bring more and more benefits to users on KCC.
What is sKCS.io?

sKCS.io is a liquidity staking protocol for KCS on KCC. Users can stake KCS into sKCS.io and receive sKCS. sKCS can be used to participate in other DeFi products to obtain higher returns or unstake back to KCS at any time.​
How Does sKCS.io Work?
When users staked KCS with sKCS, they can receive a certain percentage of sKCS representing the stake, and the balance of sKCS can earn income and lending rewards in DeFi like KCS. sKCS has no minimum deposit limit.
When staking: Stake KCS and get sKCS. The staking rate depends on the prevailing rate. When unstaking: Burn sKCS and get KCS back. The sKCS contract will complete this operation within 3-6 days of unstaking. After users' withdrawal, they can exchange a certain percentage of KCS back.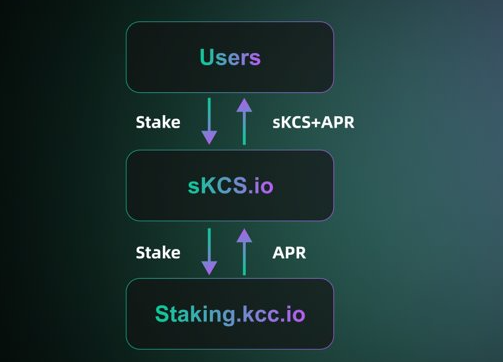 Who Created sKCS.io?
The sKCS.io project was the creation of a talented team of entrepreneurs and engineers looking to bring about change with what they describe as the perfect decentralized exchange. Along with the core team, a number of key advisors are also helping to direct the project, leveraging their expertise in the blockchain space and further afield.
What is the sKCS Token?
sKCS is a liquid staking token. You get sKCS when you stake KCS in the sKCS contract. sKCS tokens are minted upon deposit and burned upon redemption. They act as receipts, allowing you to exchange them later for your staking KCS and staking rewards. 
sKCS as a non-custodial liquid staking solution on the KCC. Holders of sKCS will get access to some great features.
As a non-custodial liquid staking solution on the KCC, sKCS holders can participate in the development of the KCC, making KCC more secure.
sKCS can be considered as a staking certificate, which can be exchanged for KCS without risk. As time grows, the exchange ratio of sKCS: KCS will be higher and higher.
sKCS is also able to circulate freely, which can greatly increase the utilization of capital.
Closing Thoughts
As the first liquid stake project on the KCC chain, sKCS will certainly provide a more secure financial environment while assisting in the construction of the KCC ecosystem.
Join sKCS:
Website: https://skcs.io/home
Twitter: https://twitter.com/sKCS_io
Telegram: https://t.me/sKCSio
Discord: https://discord.gg/wnEgxb6ZJC
---
DISCLAIMER: Please note that all projects and dApp applications running on the KuCoin Community Chain (KCC) are independently developed by third-party developers. They are not audited by KCC official team. KuCoin Community Chain is an entirely open-source and open community, which means everyone and all project parties can participate. All opportunities and risks also exist at the same time. You need to identify and prevent risks carefully.