DISCLAIMER: This is a community post written by MojitoSwap and published on https://news.kcc.io. Please note that all projects and dApp applications running on the KuCoin Community Chain (KCC) are independently developed by third-party developers. The KCC official team does not audit them. All opportunities and risks also exist at the same time. Therefore, you need to identify and prevent risks carefully.
MojitoSwap is thrilled to announce that MojitoSwap has partnered with UniPass, a non-custodial smart contract wallet that provides a seedless and gasless user experience. This integration marks an important milestone in our mission to offer our users seamless and secure account management services.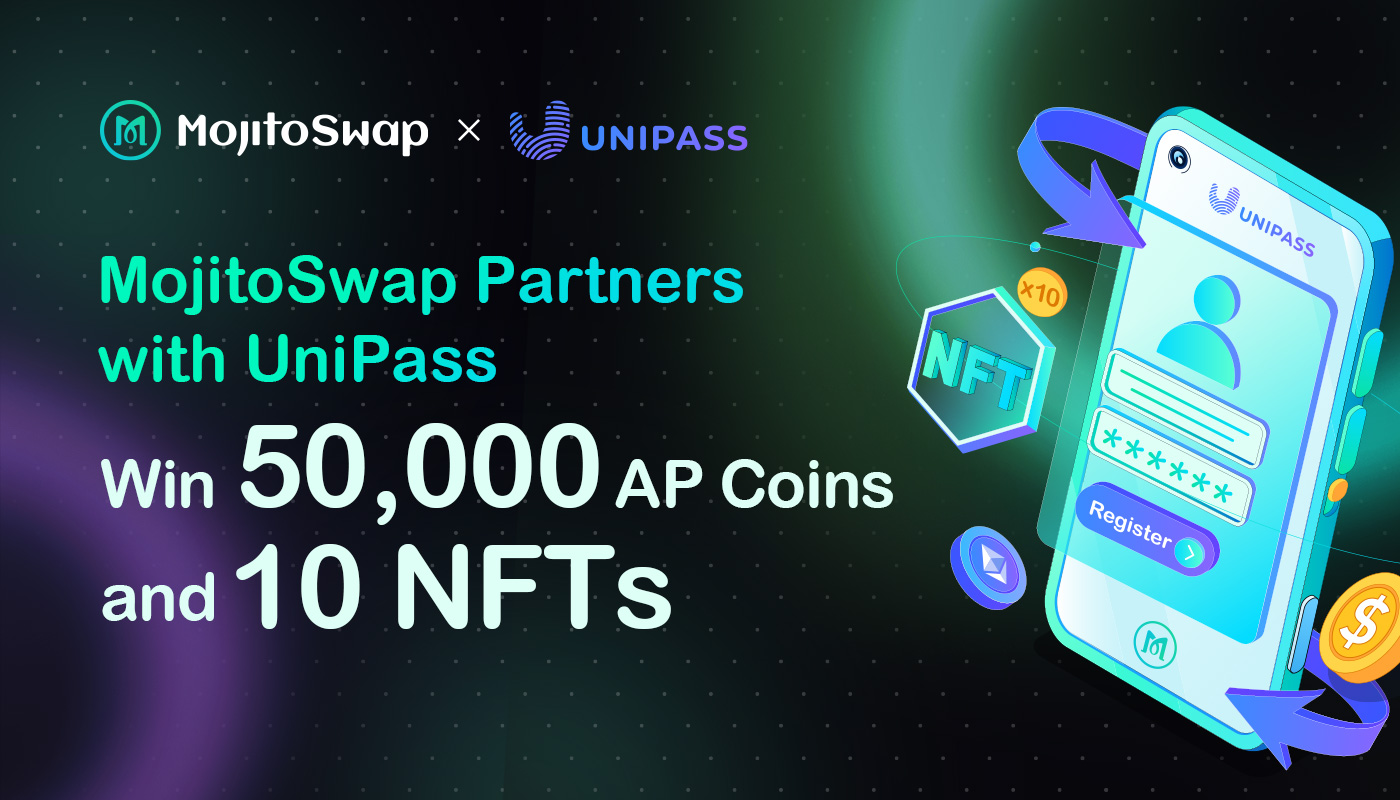 With UniPass, users can enjoy a hassle-free experience without worrying about seed phrases or gas fees. This aligns perfectly with our goal to create a user-friendly and accessible DeFi platform.
>> Click to learn more about UniPass: https://docs.wallet.unipass.id/introduction/intro
MijitoSwap is excited to explore further wallet integrations and other possibilities with UniPass in the future. As part of this partnership, we will launch a new campaign to celebrate the integration, including special promotions, giveaways, and rewards for our users.
Duration:
8:00 am, May 8, 2023 – 8:00 am, May 21, 2023(UTC)
Rules
Follow MojitoSwap and UniPass on Twitter.
Register for UniPass (for new users).
Complete at least one transaction on MojitoSwap using the address registered with UNIPASS.
Rewards
500,000 AP rewards for 500 new users on a first-come, first-served basis.
10 users who complete all the tasks will be selected to receive exquisite NFTs from the MojitoNFT market.
Tutorials:
2. How to register for Unipass on KCC
3.How to connect UNIPASS to MojitoSwap
Notes:
1. Rewards will be issued within 14 working days after the event ends
2. The final interpretation right of this event belongs to MojitoSwap.