1. Torches Finance – Torches Point Token (TOP) Mining was launched on July 15th
Torches Point (TOP) Mining has launched last week (15th). Users can receive TOP by supplying crypto assets to and borrowing crypto assets from Torches Finance and burn Torchlight (Torches Genesis NFTs ) to boost the TOP mining rate up to 900%. These NFTs can be bought from MojitoSwap NFT Marketplace.
2. MojitoSwap Liquidity Mining (Bar) Opening for $SHIB
MojittoSwap has announced that Shiba Inu ($SHIB) has been selected for the MojitoSwap Liquidity Mining (Bar). This token will be available for trading starting at 10 AM on July 21, 2022 (UTC).
3. Kupay BabyOrks NFT "sold" out in 30 minutes + 15,000 new wallets on KCC
BabyOrks, the first free NFT mint on KCC, "sold" out in 30 minutes! There was so much traffic on KCC that even the graphs on the explorer show a spike. Around 15,000 new wallets were created on the chain.
BabyOrks are a unique series of 8,888 adorable monster baby NFT's on KCC, powered by KuPay. The parents of these cute little guys specialize in transactions and are here to help expand the realms of Decentralized Finance. The babies don't work. They are just cute and come with cool perks.
4. KCC & Leonicorn Swap AMA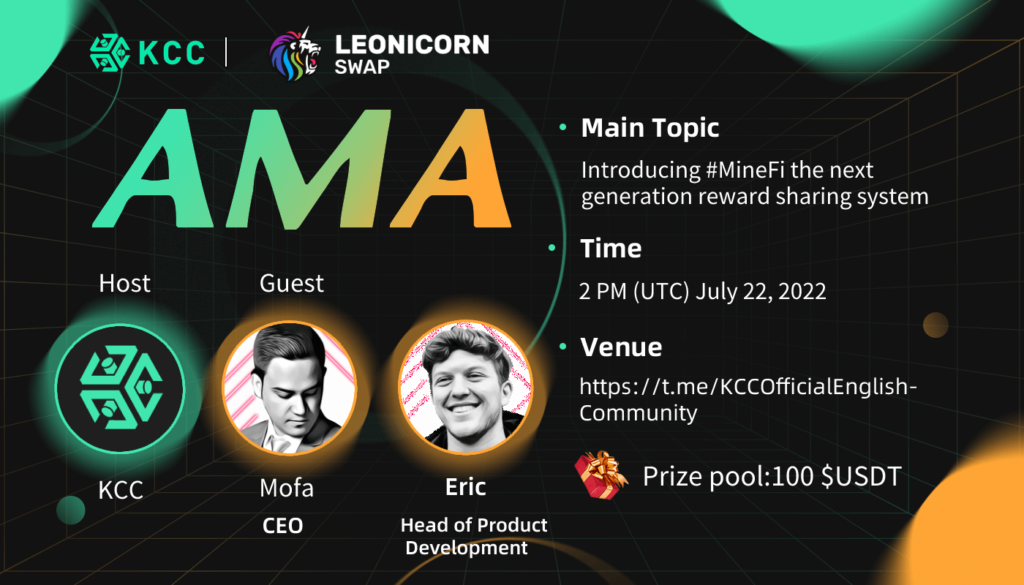 KuCoin Community Chain (KCC) is going to host an AMA (Ask-Me-Anything) session with LEONICORN SWAP's CEO, Mofa, and Head of Product Development, Eric, introducing #MineFi the next generation reword sharing system. The AMA will be at 2 PM (UTC) on July 22, 2022 in KCC Official English Community. Don't miss out!
About LEONICRON SWAP
Leonicorn Swap is an advanced AMM with features Like NFT Marketplace, Lottery, IDO and many other advanced features. We provide user-friendly, efficient and secure crypto solutions by utilizing blockchain technology
Disclaimer note: This is a weekly report that the core KCC team will be releasing with the support of its community members and partners to provide insights on the network's growth, challenges and overall observations. If you want us to include any more information or need specific insights please write to us at [email protected]