DISCLAIMER: This is a community post written by MudAi and published on https://news.kcc.io. Please note that all projects and dApp applications running on the KuCoin Community Chain (KCC) are independently developed by third-party developers. The KCC official team does not audit them. All opportunities and risks also exist at the same time. Therefore, you need to identify and prevent risks carefully.
Jan 9, 2023, KCC host an AMA with the topic "About MudAi and its collaboration with KCC". Here is the recap.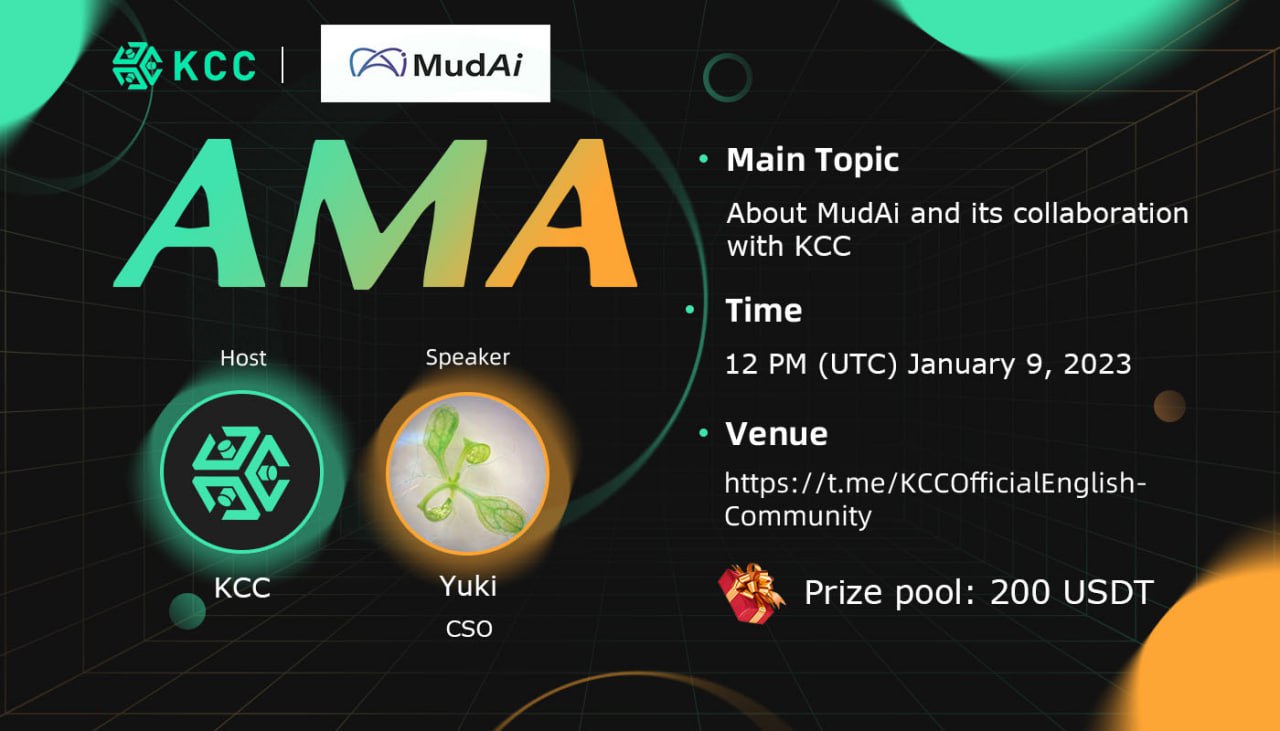 Host:
Good morning/afternoon/night to all our members! Today we have the pleasure to host another great AMA in our Community, this time with MudAi.
Firstly, I would like to introduce myself. this is Dr.Khelly. I am the ambassador of KCC in charge of Discord, and I will be your host for today's AMA. 😉
First and foremost, thank you all for coming. Today we have a very special guest @yuki_phd from MudAi, Welcome mate
Yuki | MudAi
Hello guys! I am Yuki, CSO of MudAi.
Thanks so much for inviting the telegram space of KCC, and I also appreciate you guys joining here today!
Host:
So The AMA will consist of 2 parts: 1) Defined Questions and 2) Free-ask Questions from the Community
Hope you are ready to get straight to it. 😉
Yuki | MudAi
Sure, mate!
Host:
Let's start 🔥
Q1. Can you share what MudAi is?
A: MudAi is a company and product that develops metaverse and MR applications using artificial intelligence technology, advanced 3DCG technology, and blockchain technology.
We aim to develop super applications that will become indispensable in the future through unprecedentedly beautiful graphics and completely new user experiences such as MR/VR.
We want to fundamentally change people's lives through the applications on MR that MudAi offers. We want to create the next generation's common sense while exploring more convenient forms.
A pre-alpha version of the metaverse is already in development and can be joined in the browser on Discord, and a demo version of the MR application will be released in Q1 2023.
a bit long text but plz take your time!
Q2. What are the special parts of MudAi?
How do you differentiate yourself from other competitors?
A: MudAi has several strengths, but I think the most obvious one for most people at this point is the metaverse that MudAi is developing. It is the most up-to-date technology of any metaverse project to date and is able to deliver very beautiful and smooth graphics.
In addition, this metaverse is currently in alpha development as a PC application. It is currently in closed testing and will be available on Discord soon.
Furthermore, it will be available not only in a PC version but also in VR using VR devices. In short, the MudAi metaverse is a true cross-platform metaverse, unlike many other products.
Q3. What are the measurements to secure users' assets?
A: Within MudAi, users would send digital assets to each other and sometimes buy and sell them in the marketplace.
The key here is how to ensure the security of users' assets, and MudAi does not require users to provide MudAi with more data than necessary.
But data from users is essential to MudAi's operation, right? In such cases, MudAi has a mechanism called DataStaking, which rewards users for providing data by giving them tokens.
This way, users can properly manage their own data and sometimes even use it to earn rewards.
Q4. What is the roadmap of your project?
A: To be honest, we have had to delay our MudAi marketing timeline due to the collapse of a major exchange and other factors that have contributed to the poor state of the market.
Nevertheless, we continued to develop relentlessly during that period, and we believe we have more to show you than we had before.
We plan to launch the alpha version of the MudAi metaverse and the MudAiMR application in Q1 2023.
In conjunction with this, we also plan to launch a sale of NFTs that can be used as avatars in the MudAi metaverse.
Q2, roughly in July, MudAi will be officially released as an MR application.
There are a few more details to be worked out, but MudAi will have a booth at a conference in Tokyo, Japan in July, and we plan to have the application almost officially released in July so we can showcase it at the booth.
Q5. Why might users want to use your product?
A: We, too, do not believe that the metaverse will be the only one that will explode. Only a small percentage of the population can live solely in metaverse space.
MudAi considers the metaverse to be a place of pure communication.
Therefore, the development of MudAiMR applications that can be used in mixed reality is a very important section for us, and the difference between us and many other metaverse projects is whether or not we are creating products in VR/AR/MR.
Maybe you all have never used XR devices. Imagine having a MudAi space spread all over the wall of the room you live in.
If this doesn't sound right, please follow MudAi on Twitter and take a peek at the world we want to create.
Q6. Will you issue a token in the future?
A: Sure. We will issue $MUDAI, a token that can be used within MudAi.
It will first be issued in ERC20 and then available for multiple chains.
Q7. What are your expectations on collaborating with KCC projects and supporting the KCC network?
A: We would like more users to try our products!
We would like to work with other projects to make our products available to as many users as possible.
Q8. When and how KCC users can try out your product?
A: The pre-alpha version will be available to the public in January, and we will be publishing it in the Discord, so be sure to join us on the Discord.
Free Question
Q1: is #MudAi a global project? Is there a plan to reach the Korean, European and African communities? will you run multiple language lines for people who are not native english?
A: Of course yes! we are doing meeting with Korea, US, EU as well. Our team members lives in EU and Asian country
Q2: MudAi have lots of features and it's hard to keep ourselves updated. Do you have any subscription or something where we can get time to time updates by MudAi Official?
A: Please take a look at our Discord and twitter site! it will be a simple way to find brief infomation!
Here is our Twiiter :https://twitter.com/MudAi_metaverse
Q3: What data is collected by MudAi? How will the reward mechanism work?
A: For example, we collect the data such as playing time, chat log or voice chat data with users agreement. It is user who decides what kind of data they will share, and the reward will depend on data quality and quantity
Q4: Market is adjusting sharply, the risks are very high but also a great opportunity for development projects. What are the characteristics of your project, and how is your development strategy to be able to compete and rise to top among other projects?
A: First of all our strength is the developement of product. MudAi offer most beautiful graphic in our metaverse. And, we are making great effor on BUIDL, we will offer MudAi tech. and we will recieve tech power from our partners
Q5: What are the benefits of holding your token as long term investment? Can you tell us about the motivation and benefits for investors to keep the your #MudAi token in the long run?
A: There are some obvious benefits for MudAi token holders, such as lower commissions for MudAi token holders on e-commerce sites and marketplaces on the metaverse that MudAi will offer in the future.
You can also do staking, and it is easier to build a community in the metaverse if you have MudAi tokens. The utility of tokens is too much to write about here, but every aspect of the MudAi blockchain requires tokens!