KCC Validator Election and stake to vote were officially launched. All users are welcome to vote for validators and get rewards! In this post, we will give you more details about KCC node staking.
What is KCC node staking?
Node Staking is staking your cryptocurrency assets on a node. This means you are actively participating in transaction validation which gives you a share of the income from that node. It is similar to the interest you get from a bank but in cryptocurrency.
Staking KCS on nodes is also an easy way to earn passive income. Compared to the KCS bonus on KuCoin, you have to hold at least 6 KCS tokens to earn around APR 2% revenue. However, if you stake your KCS to vote for the node, the APR will be more than 3%, and you only need at least 1 KCS token to earn this revenue.
How to participate in KCS Staking
1)Set up your KCC wallet;
If you haven't set up your KCC wallet, you can see this tutorial to set up your KCC Wallet first.
2.)Have enough KCS in your crypto wallet;
KCS is the gas on KCC, you can buy KCS on KuCoin or MojitoSwap.
3) Visit the node staking page and connect your crypto wallet
After having enough KCS, visit node staking pages on KCC and connect your crypto wallet.

4) Stake KCS to vote
After that, click "Stake Now", to start voting for validators.

5) Choose the validators
Choose which validators you are going to vote for and click the "Vote" button.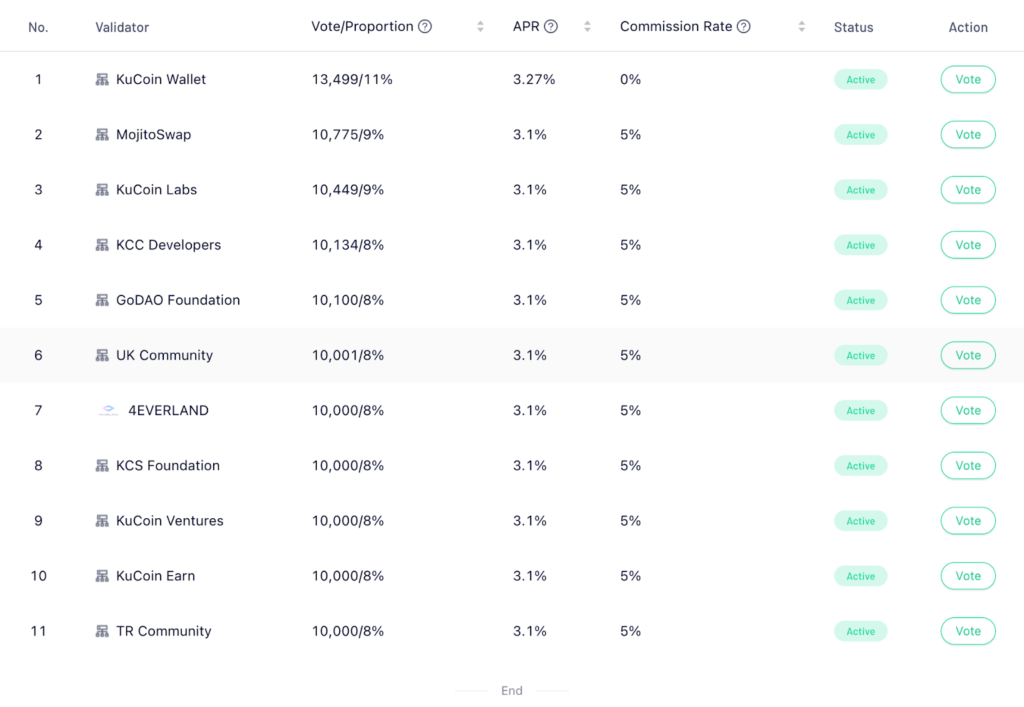 6) Stake your KCS
Enter the amount of KCS that you want to stake. 1 KCS represents 1 vote, and It should be an integer amount. Then click "Vote" to complete the staking.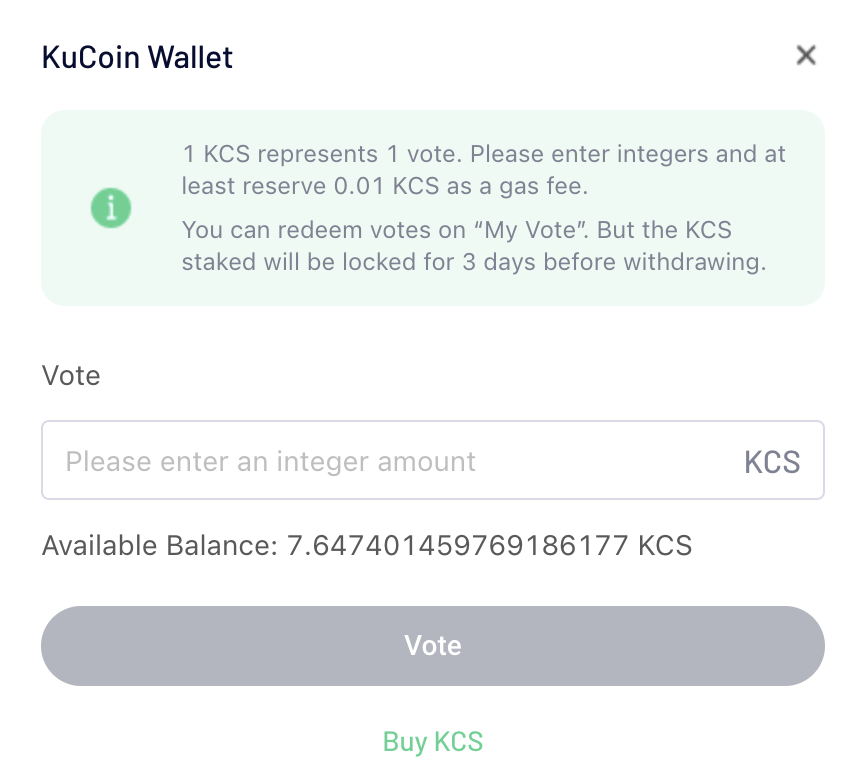 How to redeem staked KCS
1. Click "My Vote" in the top menu of the node staking page.

2. Scroll down and click the "Redeem" button and enter the amount of the KCS you want to redeem.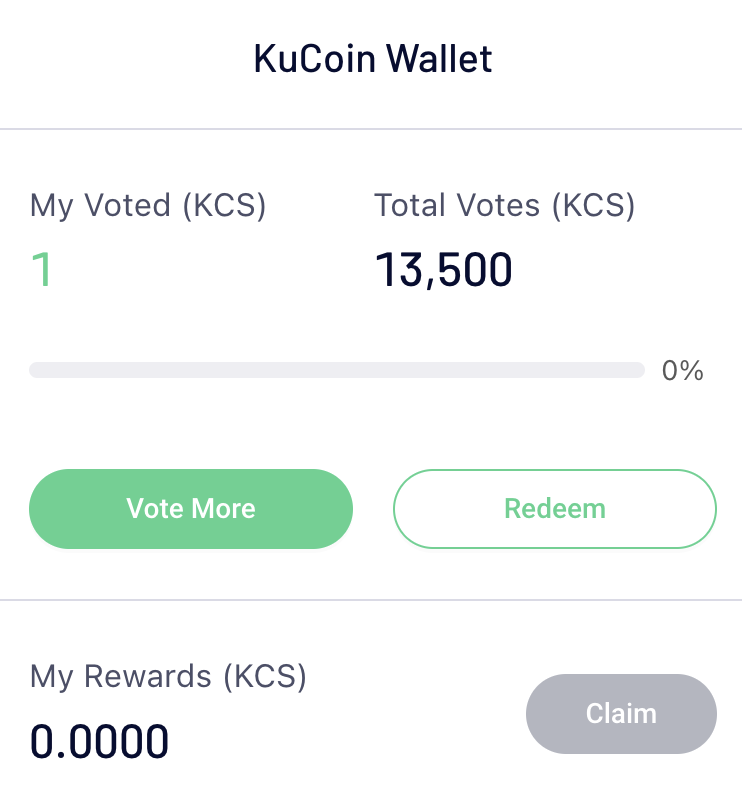 3. KCS will be available to withdraw after a 3-day lockup period. During the lockup period, no more rewards will be generated.
How to check or claim staking rewards
1. Users can check their rewards details on "My Vote" in the top menu of the node staking page.

2. Users can claim their rewards by clicking "Claim".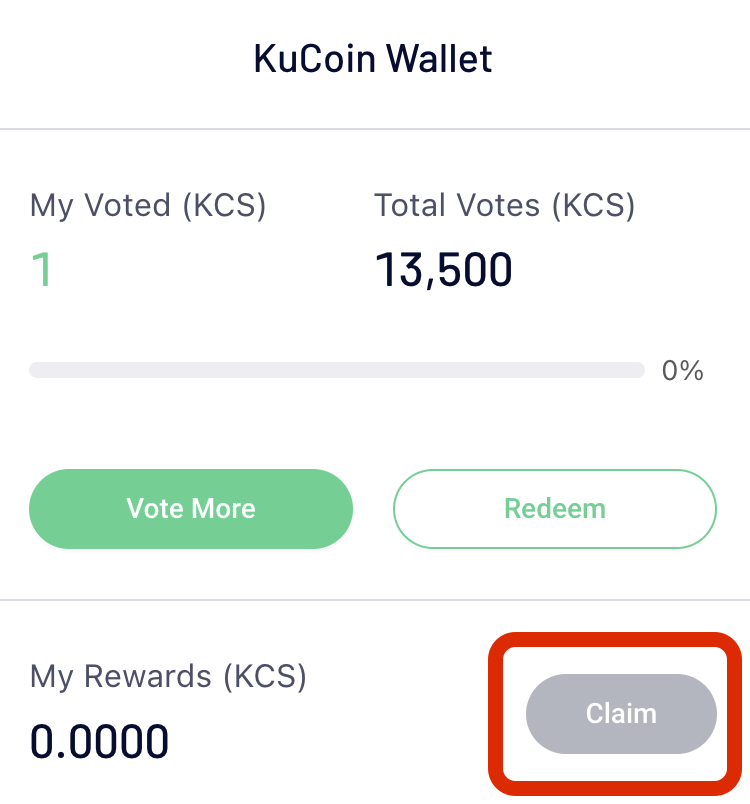 You can now stake your KCS to vote and get more rewards by visiting https://staking.kcc.io/staking.